We are 16 days away from pure bliss.
Over the course of these 16 days, I will provide previews for each conference, individual team previews for the entire FBS and betting strategy pieces that will cover topics such as the Heisman and week one efficiency mismatches, all exclusively on Sports Action and the SportsAction app.
We will also be producing more entertaining and interactive content such as podcasts and contests as we approach the first Saturday. I hope you enjoy the content, and we can help each other make money leading up to and throughout the college football season.
Before we get into the conference and team previews, I included a little bit more about my capping style below followed by a few high-level predictions for the college football season.
Capping Style
I have always said that handicapping college football is a little bit of art and science, but it all starts in the "lab" during the offseason with the creation of power ratings. Whether you want to work with the entire FBS or exclusivley on a specific conference, properly capping college football requires a methodology for assigning spreads.
I formulate my preseason power ratings utilizing many significant variables such as returning production, head coaching/coordinator grades, net turnovers from the previous season and returning explosiveness (plays over 30 yards), among other meaningful data points that I can incoporate into setting the power ratings that form the foundation of each college football betting season.
The next step involves evaluating the schedule and home field advantage to derive projected numbers for every game of the season, which will help identify value, especially when lines are first released.
After the power ratings are created, the schedule becomes gospel for a college football handicapper. When deciphering a schedule from a situational perspective, a few basic examples of what to look for include neutral site games, bye weeks, back-to-back road games and overlooked spots. For example, anticipating Baylor holding back starters in a look-ahead spot with Oklahoma on deck could be the difference between an easy first half winner and getting backdoored late in the fourth quarter on a full game bet. Bye weeks can provide critical rest and offer a chance for teams to reset, while injury and depth issues are magnified on the back end of back-to-back road games, especially later in the season.
I will highlight these on each schedule contained within every individual team preview. Here is an example using Florida State's schedule for your reference.
Lastly, I just wanted to note that power ratings are fluid, and the "maintenance" throughout the season is paramount. The goal on a week-to-week basis during the season is to create power ratings that ultimately reflect the closing line.
Now let's get into some predictions…
Projected Conference Champions
ACC: Florida State (+118) over Virginia Tech (+975)
Big 12: Oklahoma State (+450) over Oklahoma (+102)
B1G: Ohio State (+128) over Wisconsin (+470)
Pac 12: USC (+112) over Stanford (+1020)
SEC: Alabama (-153) over Florida (+1000)
MWC: Wyoming (+725)
AAC: South Florida (-108)
CUSA: MTSU (+560)
MAC: Toledo (+178)
SBC: Appalachian State (+100)
Additionally, a few conference champion sleepers that I think hold value include Northwestern +2200, Baylor +3800, UNLV +2800 and UTSA +740.
Projected College Football Playoff
Rose Bowl: USC +825 over Florida State +975

Sugar Bowl: Ohio State +825 over Alabama +245

National Championship: USC over Ohio State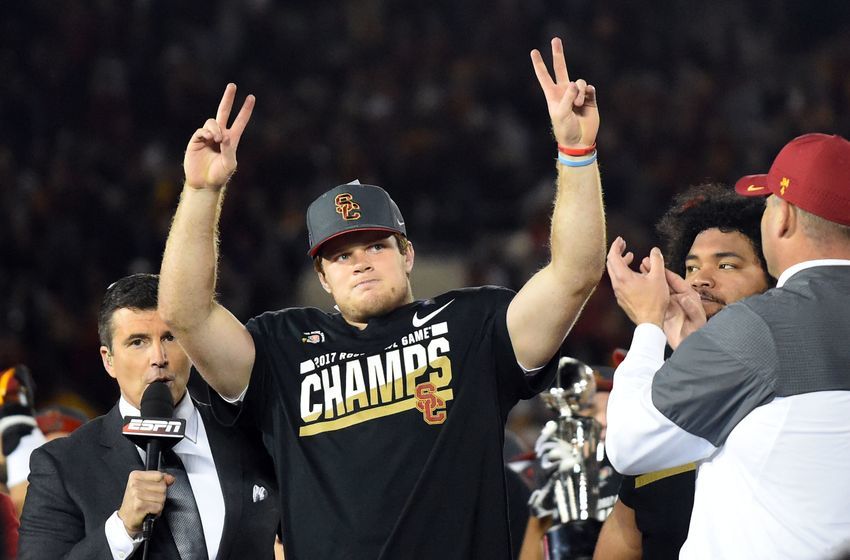 Ready for more?
First up, the best conference in the nation that won't have a team in the College Football Playoff Championship game: Here's our 2017 SEC Conference Betting Preview