Offseason Notes
Florida will return 12 starters from their 2016 squad as Jim McElwain looks to lead the Gators to a third straight SEC East Division Title. However, if you dig a little deeper, you will notice that 9 of those 12 returning starters are on the offensive side of the ball. The Gators are an interesting study as they return 9 of 11 starters from the worst offense in the SEC in 2016, but only 3 of 11 starters from a top 5 national defense in 2016.
Doug Nussmeier will return as the Gators Offensive Coordinator, but he is certainly under pressure to produce after two ugly offensive years in Gainesville. Florida has yet to name a starting QB as ND transfer Malik Zaire, redshirt freshman Feleipe Franks and former starter Luke Del Rio continue to battle it out in a 3 way QB competition. The offensive line struggled at times last year, but they do return 4 of 5 starters.
Randy Shannon, former head coach at the University of Miami, has transitioned from LB Coach to take over as new Defensive Coordinator. He will take over a unit that has been dominant in recent years, but will lack starting experience this season. The Gators should be relentless off of the edge led by CeCe Jefferson, but there are questions throughout the rest of the defense especially up the middle as they lost almost all of their starting production at DT and LB.
The Gators also lost 3 defensive backs to the draft in addition to losing fifth year starting safety and leading tackler from a year ago, Marcell Harris, to an achilles this summer. However, it is not all bad news for a secondary that allowed the fewest passing touchdowns in FBS in 2016; Duke Dawson, a fifth year starting senior, will lock down one corner spot and Chauncey Gardner, a potential All-American, will move back to safety to replace Harris. Also, Shannon will probably run more 4-3 than nickel with this roster so corner depth becomes less critical schematically.
Lastly, let's look at the Gators special teams as they may boast one of the best all around units nationally. Florida has a reliable kicker in Eddy Pineiro (made 11 field goals from 40+ in 2016) and an excellent punter in Johnny Townsend (2016 Ray Guy Finalist) who led the country in 2016 with an average of 48 yards per punt. Do not underestimate the importance of Pineiro's big leg and Townsend's ability to flip the field especially for an offense that isn't expected to be explosive.
Expected Win Totals
CW Projected Total Wins:      7.8
CW Projected SEC Wins:      5.1
Posted Total Wins:             O 8 -160
2017 Schedule
Home Field Advantage:        3.1
Opening Power Rating:        59
Date
Away
Home
CW's Line
Sep 2
Florida
Michigan
-4
Sep 9
N. Colorado
Florida
-46
Sep 16
Tennessee
Florida
-3
Sep 23
Florida
Kentucky
2.5
Sep 30
Vanderbilt
Florida
-9
Oct 7
LSU
Florida
3
Oct 14
Texas A&M
Florida
-7
Oct 28
Georgia
Florida
-1.5
Nov 4
Florida
Missouri
3.5
Nov 11
Florida
South Carolina
2.5
Nov 18
UAB
Florida
-28.5
Nov 25
Florida St.
Florida
10.5
Legend:

After bye week

/

Overlook Watch

/

B2B road games

/

Neutral site
Betting Notes
Florida has a tremendously favorable schedule full of home cooking. As a result of Hurricane Matthew in 2016, their matchup with LSU this year has been flipped from a road conference game to a home conference game. This gives Florida 4 true home SEC games, one neutral site game in Jacksonville (Georgia), and 3 very winnable conference road games (Kentucky, Missouri, South Carolina).
The Cocktail Party Game of the Year number currently sits at Georgia -2. A Florida win in Jacksonville would put the Gators in control of the East, but a loss would not necessarily end their chances as Georgia has a much tougher conference schedule with road trips to Auburn and Tennessee. Florida has won 3 straight in the series by an average margin of just under 20 points per game. I am buying Florida SEC futures in 2017 as a result of their favorable conference schedule.
McElwain has struggled to cover against non-SEC teams (2-7 ATS the previous 2 seasons) especially against the Power 5. Florida is projected to be an underdog against Florida State and Michigan. If they don't improve against the elite teams out of conference, 0-2 in those games could keep Florida out of the playoff picture even with an SEC Championship.
Tennessee ended an 11 game losing streak against Florida in 2016 with a shocking late comeback. Florida should be salivating to get revenge week 3 when a young Vols teams heads to Gainesville for their first true road game of the season.
Florida needs to be careful at Kentucky especially if that is a primetime game. Lexington is starting to believe "the streak" could come to an end this season. Florida has won 30 straight games over Kentucky.
X-Factors
Feleipe Franks (QB) – Most viewed the offseason arrival of Malik Zaire, a graduate transfer from Notre Dame, as an immediate upgrade for a team that has struggled to find quality QB play in recent years. However, Zaire has had issues through 2 weeks of fall camp running tempo while Feleipe Franks continues to impress the Florida coaching staff. Malik Zaire is currently listed at -160 to get the start against Michigan, but keep your eyes on Franks even if he isn't named the starter as there are questions with Zaire's durability (started 3 games in 3 seasons at ND).

Dre Massey (WR) – Florida has a lot of depth at Wide Receiver, but someone needs to step up at WR to help out Calloway (Paul Hornung Award Finalist) or he will just be shaded again all season. Massey could be the guy as he has the potential to stretch out any defense which the Gators offense desperately needs. Massey also has the potential to be a dynamic kick returner on an already dominant special teams unit.
Useless Trends
Since 2013, overs are 7-2 when Florida is a road favorite which should occur 3 times this season in conference play at Kentucky, at South Carolina and at Missouri.
It all goes right if…
Florida can build early offensive momentum. Even average QB play from Malik Zaire (or potentially Feleipe Franks) would serve as an upgrade from the previous 2 years. A decent showing by the offense in a win over Michigan in week 1 could provide the confidence they need to sweep a favorable SEC schedule. At 11-0, Florida should still make the College Football Playoff even with a split of the final two games of the season vs Florida State and presumably Alabama in the SEC Title.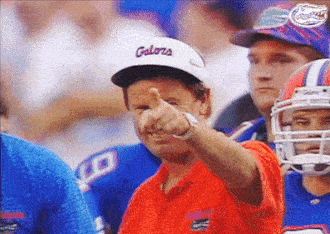 It all goes wrong if…
Florida does not find a reliable corner from their inexperienced underclassmen to line up on the other side of Dawson. Don't underestimate the other "DBU" to retool at this position as they showed last year when 3 first year DB's were drafted.
Betting Recap
SEC East Champions +150

SEC Champions +1000
Need more SEC coverage? Check out our full SEC Conference Preview.