SEC West Overview
As you already know, the discussion in the SEC West usually starts and ends with Alabama. Nick Saban is a godlike 119-19 during his 10-year tenure, and the Crimson Tide have won three straight SEC Championship Games and four of the last five only because they didn't make it in 2013 due to some mundane play that people refer to as "Kick 6."
Bama currently sits at around -160 to win the SEC, which I don't see much value in since there are a few more questions than usual with this team. Until I see the impact of Alabama's new offensive coordinator Brian Daboll (the former Patriots TE Coach) and how effectively they fill in some of the front-seven pieces lost to the draft, I would hold back on any long-term investment. Alabama has a very favorable conference schedule, so the East may come down to the Iron Bowl clash on Thanksgiving weekend if Auburn is able to navigate a relatively more difficult conference schedule.
Auburn is currently priced at +460 to win the SEC West and +680 to win the SEC, but the wiser investment might be a National Championship future (currently 30/1 at Westgate) if you think they have a good shot at beating Alabama and trust the SEC pedigree in the College Football Playoff. Not many will remember that War Eagle had the fifth-best scoring defense in the nation last year, and they bring back a lot of production from that unit. The success of their season will come down to replacing a few key departures on defense and whether new offensive coordinator Chip Lindsey and new quarterback Jarrett Stidham, a Baylor transfer, can figure out a way to balance out their potent running back tandem of Kamryn Pettway and Kerryon Johnson.
LSU is really the only other team in the SEC West you will hear mentioned as having a realistic shot to win the division, but I see no value at 5/1 with trips to Alabama, Florida and Tennessee on their schedule, especially considering how much production they lost from last year. The Tigers will also be transitioning to a new offense under new offensive coordinator Matt Canada and still have questions at quarterback.
The other four teams in the West are really non factors. Austin Allen should keep Arkansas in most games, but my Hogs took a big hit with the loss of Rawleigh Williams III in the backfield. There are still questions about the offensive line, and the defense will be transitioning to a 3-4 under new defensive coordinator Paul Rhoads. The good news is I don't think the defense can get much worse than last year.
Nick Fitzgerald should put up monster rushing numbers again for Mississippi State, but there isn't much more to speak about on the roster, especially on the defensive side of the ball where new defensive coordinator Todd Grantham will try to fix a unit that gave up 35 or more six times last year. It could get ugly fast for Texas A&M with Kevin Sumlin trying to save his job in a year where the Aggies are reloading on both sides of the ball with a potential freshman starting QB.
Ole Miss fans should be excited to watch Shea Patterson but not much else, as they are not elgible for the SEC Championship or a bowl this year.
SEC East Overview
Everyone is familiar with Alabama's recent dominance of the SEC West, but don't sleep on how successful Florida has been in the SEC East. They've won the division five of the last 11 years including the last two.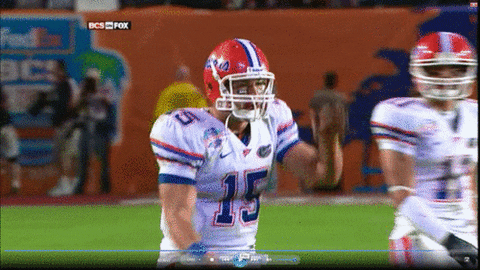 The SEC East appears to be a two-horse race between the aforementioned Gators and the Georgia Bulldogs. I know there are some in Knoxville that will disagree, but I would need more than 26/1 to back Tennessee to come out of the East and then beat Alabama considering how much Rocky Top lost from last year (Joshua Dobbs, Jalen Hurd and Alvin Kamara) and how difficult their schedule looks. I am personally rolling with Florida at 10/1 to win the SEC, which I think provides much better value than Georgia considering Florida's cake schedule.
Florida only plays three true road games this year: Kentucky, Missouri and South Carolina. Don't forget the Gators get an extra home game from the LSU Hurricane Matthew reschedule last year. The Gators and Bulldogs' neutral site game in Jacksonville on October 28 could very well determine the East. Florida has won three straight in the series by margins of 18, 24 and 14.
I have heard some mention Kentucky as a deep sleeper in the SEC East, but that would require some success on the road for a team that has won two SEC games away from Lexington in the last seven years. Please don't show this article to Benny Snell.
South Carolina brings back as much production as anybody in the country, but that can mainly be attributed to their extreme youth last season. Head coach Will Muschamp is still a few years away from having a team that can realistically make any real noise in the SEC. Missouri won't be able to stop a nose bleed again, but they do return all 11 starters on an offense that should be explosive. Head coach Derek Mason certainly has Vanderbilt moving in the right direction, but they just don't have the offensive talent outside of Ralph Webb in the backfield to really compete for the division. Don't ever forget that Kyle Shurmur was 19-of-46 for 158 yards with zero TDs and three INTs in last year's bowl game against NC State.
3 SEC Best Bets
Florida to win the SEC +1000
Auburn to win National Title 30/1
Texas A&M Total Wins U 7 -110