Offseason Notes
Texas A&M, 107th in S&P+ returning production, will have to replace 10 starters from 2016; 5 of those 10 starters were lost to the draft including first overall pick, DE Myles Garrett. The Aggies won 8 games in 2016 for the third straight season, but were lucky to do so as they needed 2 home OT wins to get there. It is no secret in College Station that Kevin Sumlin is on the proverbial hot seat after multiple late season collapses. He will have continuity on the staff to rely on as he attempts to save his job since both DC John Chavis and OC Noel Mazzone have returned for 2017.
The offense, which only returns 5 starters, will be led by a new QB since Trevor Knight graduated (you may have seen him in the HOF game playing for the Cardinals). There is currently a 3 way competition between senior QB Jake Hubenak and two freshman, Nick Starkel and Kellen Mond. I think Starkel has the most potential this year and ultimately wins the job, but he will not have much experience at wide receiver to rely on. A&M lost significant production on the outside including 4th round draft pick Josh Reynolds, who will be sorely missed for his big play potential. The Aggies need to replace 3 starting receivers and 62% of receiving yards from 2016. The good news is the 1 starting receiver coming back is 1st Team All SEC Christian Kirk, who led the SEC in catches last year. Kirk, who also led the NCAA in punt return yards and average yard per return the last 2 seasons, is one of the best special teams players in the nation.
The strength of the A&M offense resides in the potent backfield combo of Trayveon Williams and Keith Ford. Williams, who rushed for over 1,000 yards and 6.8 yards per carry as a true freshman, will be the focal point of an offense that lost so much in the passing game. Williams can also serve as crutch to the eventual starting QB as he is effective receiver out of the backfield. Senior Keith Ford, who transferred from OU, offers the perfect compliment to Williams as the battering ram who actively seeks contact. They will run behind an offensive line that has the potential to be special.
The defense returns 7 starters, but lost both star defensive ends as Myles Garrett and Daeshon Hall will now play on Sundays. They need to find a way to replace those massive losses at defensive end, a position that is especially critical in a division with so many mobile QBs (Hurts, Allen, Fitzgerakd) putting added emphasis on outside contain. The interior defensive line should at least be solid. Despite losing projected starting CB Nick Harvey for the season, the secondary should be strong as you would expect under Chavis. However, the defense needs to find a group of linebackers who can stop the run, something A&M has not done the last 2 seasons allowing 210 yards per game in 2015 and 190 in 2016.
Expected Win Totals
CW Projected Total Wins:      5.9
CW Projected SEC Wins:      2.5
Posted Total Wins:              O 7 -110
2017 Schedule
Home Field Advantage:         2.2
Opening Power Rating:          55
Date
Away
Home
CW's Line
Sep 3
Texas A&M
UCLA
-4
Sep 9
Nicholls St.
Texas A&M
-36
Sep 16
ULL
Texas A&M
-20
Sep 23
Arkansas
Texas A&M
-1.5
Sep 30
South Carolina
Texas A&M
-3
Oct 7
Alabama
Texas A&M
21
Oct 14
Texas A&M
Florida
-7
Oct 28
Mississippi St.
Texas A&M
-6
Nov 4
Auburn
Texas A&M
7.5
Nov 11
New Mexico
Texas A&M
-17.5
Nov 18
Texas A&M
Ole Miss
2.5
Nov 25
Texas A&M
LSU
-12.5
Legend:

After bye week

/

Overlook Watch

/

B2B road games

/

Neutral site
Betting Notes
It is worth noting that Kevin Sumlin has been unable to recover from losses while at Texas A&M. Since 2014, Texas A&M is 1-12 ATS after a straight up loss. Keep this in mind when betting A&M on a week to week basis.
From a futures perspective, I am personally investing in the Under 7 -110 total wins. I penciled in losses against Alabama, LSU, Auburn, and Florida meaning A&M would have to win coin flip games against UCLA, Arkansas, and Ole Miss in order for this wager to lose. I will take my chances on a team with uncertainty at QB and a fragile coaching situation.
Also, keep in mind that Texas A&M had trouble all last season stopping mobile QBs (see division games and K State) even with two NFL Defensive Ends. They will face a number of those same dual threat QBs again in 2017 in addition to the option attack of New Mexico.
Sumlin has owned Beilema since arriving at Texas A&M winning all 5 of their h2h meetings, but he has yet to beat LSU (0-5).
X-Factors
Jhamon Ausbon (WR) – A&M must replace 136 receptions from 2016. Christian Kirk will get his catches, but his effectiveness will be limited by double teams without any help. Ausbon has the talent to step in and produce.
Anthony Hines (LB) – As I mentioned before, A&M needs their linebackers to step up in order to improve a horrendous rush defense from the past 2 seasons. The leader of this group might be true freshman, Anthony Hines, the number 2 overall LB in the class of 2017. He has unlimited upside, but relying on a true freshman at LB in the SEC is scary.
Useless Trend
Gig 'em is 3-16 ATS after a bye week since 2008 which will apply to Mississippi State on October 28th.
It all goes right if…
Kevin Sumlin can finally win in November. Getting off to a good start has never been a problem for A&M, but it all falls apart once they reach November. Sumlin is 2-7 against the SEC in November over the last 3 seasons, a stat he must improve this season or he won't be back in 2018.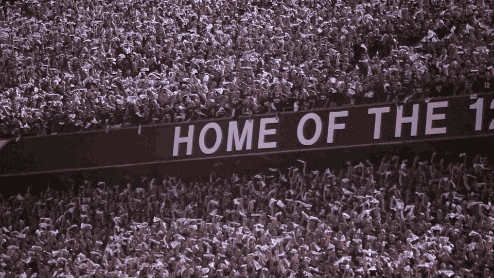 It all goes wrong if…
They don't start 5-0. If they lose 1 of the first 5 games, which I think happens, they are then staring at b2b losses against Alabama and at Florida before their bye week. With 3 losses before November, local beat reporters and fans will start to turn and it could get ugly quick in College Station. If this plays out, Mississippi State at + anything will be an absolute hammer on October 28th especially considering Sumlin's futility after byes and losses, which would both be applicable.
Betting Recap
Texas A&M Total Wins Under 7 -110

Mississippi State +6 or better
For more on how A&M will stack up within the SEC, check out our full SEC Conference Preview.